Maxus eDeliver 3 L1 H1 50.23kWh Auto FWD Panal Van (EV)
£27,695.00 + VAT and Road Fund Licence
Hire Purchase From: £463.43 PM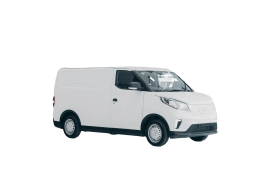 The Maxus eDeliver 3 L1 H1 50.23kWh Auto FWD Panal Van (EV) propels the motor trade into the 21st century with its forward thinking and commitment to creating cleaner, greener and more sustainable transport innovations. Equipped with the latest modern driver comforts whilst still holding onto its core values of reliability and safety, this is the vehicle to take you into the future.
Its powerful performance is credited to the clever design which incorporates a combination of lightweight materials and aerodynamic principles.
Interior (Standard features)
Designed for comfort and convenience, the interior of a Maxus eDeliver 3 L1 H1 50.23kWh Auto FWD Panal Van (EV) truly delivers in terms of comfort, style and modern conveniences.
Air conditioning and heated seats ensure comfort levels are maintained no matter the weather. Whilst cruise control, a reversing camera and rear parking sensors contribute to stress free driving.
Your world is at your fingertips with features that include a 7 inch touch screen, Bluetooth and a multifunction steering wheel, allowing connection, full control and safety.
The Maxus eDeliver 3 comes with two driving modes plus three energy recovery modes as well as ESC and a front passenger airbag. In addition, the cargo area includes four cargo area floor strapping rings to safely secure items during transportation.
Exterior (Standard features)
Personalise your Maxus eDeliver 3 L1 H1 50.23kWh Auto FWD Panal Van (EV) with a choice of stylish colours and relax in the knowledge that all paints come with 3 years paint warranty as well as 10 years anti - corrosion warranty!
Further conveniences include, daytime running lights, automatic headlights and electrically adjustable outside mirrors.
For our best prices call us on 01709 717200.
Request A Call Back
Request a callback
Simply fill in the small form below and we will call you back asap.