Peugeot Expert Compact 1000 BlueHDi 100 Professional Van
£15,795.00 + VAT and Road Fund Licence
Hire Purchase From: £264.30 PM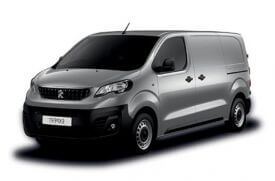 The Peugeot Expert Compact 1000 1.6 BlueHDI 95 Professional Van is a robust and modern van that has been specifically designed to have greater modularity and increased fuel efficiency, with the Compact size of this van making it particularly manoeuvrable around town and city centres.
This Peugeot Expert Compact 1000 van is available to buy now for an affordable price from UK Vans Direct.
Peugeot Expert Compact Specifications
The Compact is the smallest version of the Peugeot Expert, with this panel van version measuring 4609mm long, 1905mm high and 1920mm wide (excluding mirrors). These overall measurements create a maximum useful volume of 4.6 cubic metres and a maximum useful load weight of 1400kg.
Additional specifications for this Peugeot Expert Compact Professional Van include:
Useful width between wheel arches: 1258mm

Opening height of rear doors: 1220mm

Opening width of sliding doors: 745mm

Opening height of sliding doors: 1238mm

Threshold height at the rear of the platform: 545-626mm

Max. interior height: 1397mm

Maximum useful length: 2162mm

Maximum useful length with Moduwork: 3324mm

Maximum useful volume with Moduwork: 5.1 cubic metres
Peugeot Expert Standard Features
Peugeot Expert vans include many excellent features designed and built-in to the van to enhance its comfort and security. Some of these features include:
Hands-free sliding side door

Ergonomic driving position (Sedan-style)

Numerous storage compartments

Latest generation 3D navigation with voice recognition

TomTom Traffic

USB port with Mirror Screen feature

7-inch touch screen

Moduwork swivelling table

Reversing camera

Active Safety Brake

Cruise Control

4 sensors for blind spot monitoring
Peugeot Expert Engine Performance
This Compact 1000 Expert Professional Van uses a 1.6-litre BlueHDi diesel engine with the new EAT6 automatic gearbox. It produces 95 horsepower while maintaining efficient fuel consumption and lower than ever emission levels, all of which helps keep the running costs of this van competitive with other similarly sized vans. Additionally, all Peugeot Expert drivers can expect a generous maintenance interval of 40,000km or two years.
The Peugeot Expert Compact 1000 1.6 BlueHDI 95 Professional Van is available now for £16795 plus VAT and Road Fund Licence from UK Vans Direct. There is also a hire purchase deal available for £281.04 per month. Delivery of the van is free of charge.
For more information about the Peugeot Expert Compact 1000 1.6 BlueHDi 100 Professional Van, call our team of Peugeot van experts on 01709 717200.
Request A Call Back
Request a callback
Simply fill in the small form below and we will call you back asap.
Other Models In This Range